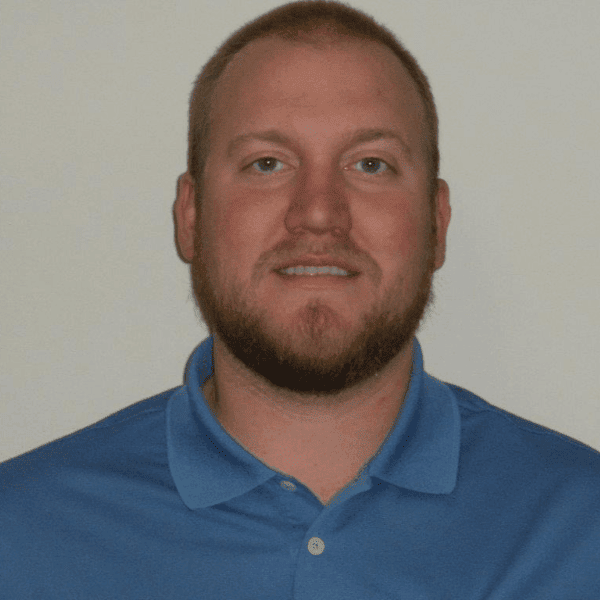 Ryan Stout
Sales/Home Solutions Advisor
15 Reviews
Air Conditioner Installation in Mount Ulla, NC 28125
"My air went out,Mike Lippard came to service, compressor died. Ryan Stout came brought portal air until I could get new one installed. Chance Reading and Sam Kincaid installed new unit,did a great job and very professional. I was greatly impressed with all 4 young men.Thank for such good service."
- Marion Jo C.
Air Conditioner Installation in Cleveland, NC 27013
"Thanks to all who had a part in ordering and installing the new heat pump which is working great in this hot weather. The three guys (Chance, Carson, and Jonathan) who came to the house and tackled the challenging installation were very efficient and courteous. Ryan did a good job communicating with me. Thanks to Chris for helping to initiate the first steps. Thanks again for a job well done."
- Gail L.
Heat Pump Installation in China Grove, NC 28023
"Stout has provided the HVAC service for Concordia Lutheran Church for the last 20 years. Our Sanctuary A/C units went down. Stout worked with us over a long period of time to arrive at the best solution for a very difficult situation. Once the decision was made they were prompt in starting the project. The install crew and specialized operations personnel were excellent. The install was filled with difficult conditions and they found good answers for every issue we had. Everyone from top to bottom was friendly, efficient and easy to work with."
- Omar W.
Heat Pump Replacement in Salisbury, NC 28147
"Outstanding Service! We had an issue with a slow freon leak. We reached out to Stout as they carried our preferred brand. A technician came out and spent a great deal of time to ensure our assumptions were correct before confirming the issue. Considering the age of the unit, he recommended we get an analysis of replacement vs. repair so we could make an informed decision. Ryan completed a full analysis and we decided to replace our 15-year-old unit. So, Ryan sent his team to complete the installation. Considering the supply and demand issues of 2021, they were quick to acquire the material and promptly installed the unit. Every member of the team was very professional – from knowledge to quality of work, we couldn't have asked for more. They're a no-pressure sales approach company that does outstanding work & I highly recommend them to anyone needing heating & air service."
- Keith J.
HVAC Installation in Spencer, NC 28159
"Thank you Brandon, Chance, Corey, Scott, and Ryan for providing an excellent installation of a new heating and air system. I could not have asked for anything better than what you all provided. You were exceptional and I am very happy with my new system! You all put in a lot of long hours and i appreciate it very much. I am very happy with Stout Heating and Air and will continue being a customer for the long term. Thank you also for Jeremy Lingle for his help."
- Fred H.
Ductless System Installation in Salisbury, NC 28146
"Great sales experience working with Ryan and first class installation work done by Scott. When folks take pride in their product and workmanship you know you made the right choice. Install was a 24,000 BTU Trane/Mitsubishi branded mini split. Airconditioned garage is now another almost 500 square feet of useable space for home gym etc. Great Company, Product, and experience. Highly recommend Stout Heating & Air!"
- Mark F.
Gas Furnace Replacement in Mooresville, NC 28117
"Ryan Stout helped us tremendously with deciding which gas furnace we needed for the downstairs and each explanation was so easy to understand. Cory and Brandon were the installers and absolutely awesome! So polite and friendly and even stayed late to make sure all worked efficiently and explain the new thermometer. We have been with you guys for a long time and from your receptionists to your technicians we appreciate every service we have had!"
- Mary B.
Air Conditioner Maintenance in Kannapolis, NC 28081
"Jeremy and Ryan have been great with any issue we have had with our AC system! We really appreciate the quick response they've had to anything that we have needed. Our system was a mess before they came and fixed it and we are so thankful for all the hard work they've done!"
- Sarah W.
Heat Pump Installation in Mooresville, NC 28115
"After having a tree fall on our downstairs unit, they were very quick and helpful getting a new unit in. They did an awesome job as always!!! Thanks again!!!"
- Cindy B.
Air Conditioner Replacement in Salisbury, NC 28146
"This was the best experience, from our initial diagnosis from Jeremy to option review with Ryan then install with Cory. What a great company with top notch employees."
- sherry m.
Need HVAC Service?
Contact the experts at Stout Heating & Air Conditioning.
Call us at 704-633-8095!