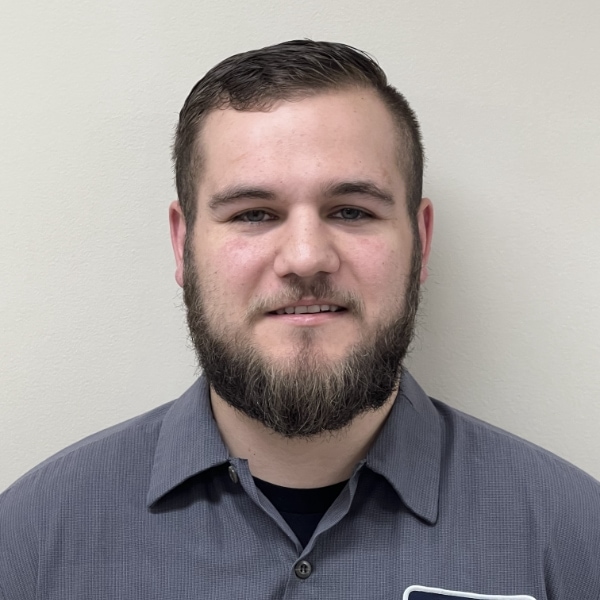 Alex Myers
Service Technician
11 Reviews
Air Conditioner Repair in Salisbury, NC 28147
Alex was very courteous, professional and helpful in getting everything fixed and suggested enhancements that should help with unit life and utility bills.
- Gine M.
Air Conditioner Repair in Salisbury, NC 28144
"I have a service contract and came in from church on Sunday to a hot house. Fan was running … no cooling. Called your service. Alex called, asked about the problem and said was on his way over. He arrived in about 20-25 minutes and said he thought he could get it going. He had read the notes from a call exactly one week ago with the same issue when we returned from church. He went to the unit, assessed the issue and resolved it. He stayed until he was sure all was in order and a cycle began a second time for cooling. He was professional, optimistic, courteous, efficient and quite skilled and did not charge me a second service call since the issue had just happened last Sunday and a slight issue from that resulted in the problem this Sunday!! I was most grateful! We are cooling again! Many thanks!"
- Jane C.
Heat Pump Repair in Salisbury, NC 28146
"You were able to get out to us within a few hours of taking my call.
Alex was very friendly and professional. He was able to diagnose our problem and repair it very quickly. He also gave us startup advice for our dual zone system.
The sweet lady that took my call was very friendly as well.
You have a great team!"
- Mike B.
Air Conditioner Repair in Salisbury, NC 28146
"Alex was great.Thank you for fast and couteous service."
- Ivy W.
Air Conditioner Repair in Salisbury, NC 28146
"Stout has always helped us with fast friendly service.
Came back from vacation with ac not working, they had me going the same day. Thanks for always being there"
- Mike P.
Air Conditioner Repair in Granite Quarry, NC 28146
"Issue from AC unit for 3 years – other companies had several solutions without resolution- Stout AC was able to find the issue & provide a solution. Everyone is very professional and polite. Stout Heating & AC will have all my business."
- Becky M.
Air Conditioner Repair in Mocksville, NC 27028
"Alex, was very professional and very quick in diagnosing the problem. The A/C was up and running in a very short time after his arrival."
- Andy J.
Air Conditioner Repair in Salisbury, NC 28146
"We had a great visit from Alex. He fixed our AC and we were afraid it would need to be replaced. Alex explained every detail on what was wrong, how to know if it happens again, and made sure everything else was still in good condition. After he completed the job he stuck around to talk with us and our tenants and answered all of our questions and concerns. Will definitely call Stout in the future for any of our heating and cooling needs.
Thank you"
- Angela N.
Air Conditioner Maintenance in Salisbury, NC 28146
"I couldn't ask for anything better with Stout and Alex. Alex was very proficient and knowledgeable. He told me everything he had done and the condition of my equipment, answered all questions I had and showed me a few things that I wanted to know how to do. I'm so very happy I now have a maintenance contract to keep my system in great working order."
- Janet J.
Heat Pump Maintenance in Salisbury, NC 28146
"Alex was on time and was cordial upon arrival. I showed him where the heat pump was and let him do his work. He checked everything out and let me know all was well. Seem to do a thorough job and very polite. He is a keeper!"
- Michael V.
Need HVAC Service?
Contact the experts at Stout Heating & Air Conditioning.
Call us at 704-633-8095!