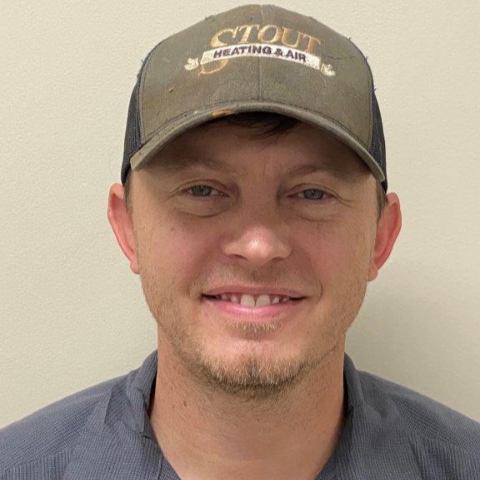 Chad Overcash
Installer
21 Reviews
Heat Pump Maintenance in Salisbury, NC 28144
"Chad did the semi-annual maintenance care on my system. When he phoned to let me know he was 10 min away, I explained I'm recovering from knee surgery. He went out of his way to assure the work was done in a timely fashion, with as little effort from me as possible!
I've been a Stout client since 1991, and have -0- complaints along the way!"
- Eva J.
Air Conditioner Maintenance in Salisbury, NC 28147
"Chad is very professional, knowledgeable and courteous!"
- David L.
Heat Pump Maintenance in Salisbury, NC 28144
"Chad was the technician that serviced my 3 HVAC units today. He was very personable, courteous and professional. He arrived on time, went straight to work and left in a reasonable amount of time. He answered all my questions and made a few suggestions at my request.
Very good experience."
- Gene M.
Air Conditioner Repair in Granite Quarry, NC 28146
"Issue from AC unit for 3 years – other companies had several solutions without resolution- Stout AC was able to find the issue & provide a solution. Everyone is very professional and polite. Stout Heating & AC will have all my business."
- Becky M.
Heat Pump Maintenance in Salisbury, NC 28146
"Chad Overcash was the technician who came to my home. He was respectful, knowledgeable, and thorough. He is an asset to Stout and I appreciate his promptness and caring and patience in answering my many questions. Kudos to Stout for employing such a great employee."
- Margarete P.
Air Conditioner Repair in Salisbury, NC 28147
"I was thrilled to get an opening as quickly as I did. Chad was pleasant and professional. He's obviously knowledgeable and took the time to explain the work done and patiently answered some questions. I have used Stout ever since I moved here and have recommended Stout at every opportunity. Chad's service guarantees my referrals will continue.
Thank you, Chad!"
- M D.
Air Conditioner Repair in Salisbury, NC 28144
"I called over the weekend during a heat wave and I am not a membership or returnee customer so I understand that it took a day to get an appointment scheduled. But once I did Chad was great. Showed up promptly during the window of time and called ahead to give me a heads up he was coming. Checked out my system, found the issue quickly, explained to me what it was and how I could identify the issue for myself in the future (should I ever want to. I kind of doubt I will but it was interesting to learn). Very personable, very professional, quick and efficient and great pricing!! Love to support a local business doing great work. And apparently they've got a great membership/preventative maintenance program that I'm definitely checking out! Thank you Chad, definitely 5 stars today!"
- Megan C.
Air Conditioner Maintenance in Salisbury, NC 28147
"Excellent customer service. Very satisfied!"
- Ronnie R.
Air Conditioner Maintenance in Salisbury, NC 28147
"Chad called to give his eta and upon arrival was very friendly and professional. After checking my unit, he told me what was wrong—showed me pictures of the problem. He advised me of an approximate cost of the repair. He even discussed the possibility of my needing a new unit-not as a sales person but as a concerned service technician. He even went a step further and called the office to scheduled a day and time for a sales representative to come to me. I have been a customer for a long time and am so glad I am. Very good company to do business with."
- Adrain S.
Heat Pump Maintenance in Granite Quarry, NC 28072
"Very professional service."
- Ellis C.
Need HVAC Service?
Contact the experts at Stout Heating & Air Conditioning.
Call us at 704-633-8095!